Virtual reality, robots and more - a student exhibit at Leeds Digital Careers Fair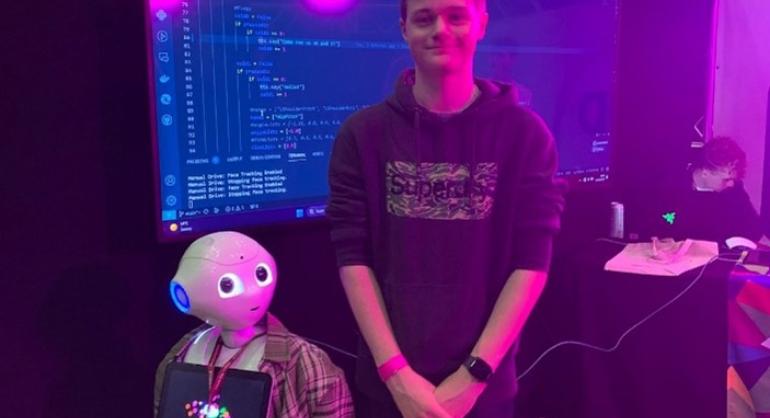 Leeds City College students took part in an interactive tech demonstration at this year's LDCF, read their article below:
As one of the sponsors at this year's Leeds Digital Careers Fair, it was only right that we turned up on the day to showcase the tech careers and training programmes on offer on their doorstep.
And we didn't go alone - some of our T Level Digital & IT students came along to participate in the event's Inspire Pod, exhibiting two Pepper Robots (known as Salt and Pepper) and demonstrating the coding behind the robotics.
Another T Level group wowed attendees with their virtual metaverse of the fair itself, created in partnership with Leeds City Council and Hundo, a virtual work experience company.
Why digital career fairs are important
The event enabled people from across the Leeds city region to explore the world of Digital & IT - an industry driving a range of tech, engineering and STEM-related job roles.
More importantly, for aspiring professionals seeking a way to pursue their career ambitions, events such as Leeds Digital Careers Fair and Leeds Digital Festival provide a way to discover the latest industry innovations and network with people teaching the skills needed to work in an increasingly digital world.
Rob Whitehead, Deputy Head of Digital & Innovation at Leeds City College, and one of this year's guest speakers, agrees. "The atmosphere at the event was amazing. It was great to witness such keen interest and enthusiastic discussions about future students' college options.
"Digital is evolving and our students' outstanding demonstration of the Pepper Robots is just one example of how young people can explore new and emerging technologies through further education."
Celebrating the next generation of technologists
Louise Wood, Employment and Skills Senior Manager at Leeds City Council, was full of praise for the students who created the metaverse after receiving a demonstration ahead of the event.
"I was absolutely blown away when I saw the metaverse. This sort of product has the potential to be truly life-changing - the Leeds City College students should be immensely proud of what they created and have bright futures ahead of them."
Thanks to everyone involved who helped to make the careers fair a success. We can't wait to see what next year has in store!