Leeds Apprenticeship Hub
Our Apprenticeship Hub provides information, advice and guidance to businesses on apprenticeships, helping you to create new apprenticeship vacancies and to maximise your levy funding.
The promotion of apprenticeships continues to be a priority for the Hub, offering sessions in schools and colleges to provide information about apprenticeships to students, teaching staff, parents and carers.  The Hub attends careers events, assemblies and parents' evenings for students in Year 10 and above.  The Hub also organises the annual Leeds Apprenticeship Recruitment Fair in February at the Leeds first direct arena.
You can do an apprenticeship at any age and at any level.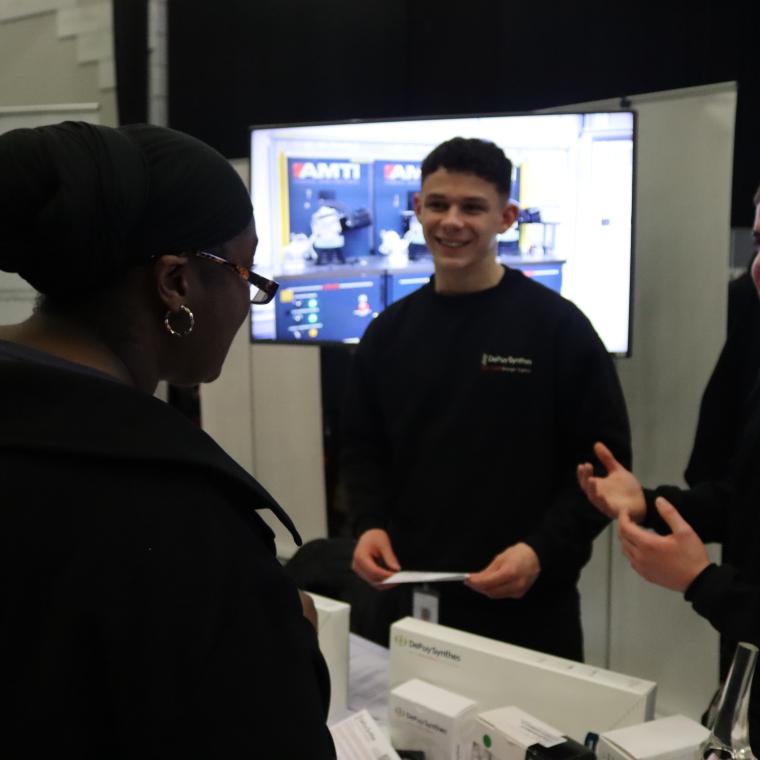 Listen to local apprentices, sharing what it's like to do an apprenticeship:
Apprenticeships Explained
What is an apprenticeship?
An apprenticeship is a job with a salary. You will work for an employer and get paid to learn and train to do a job to required standards.  You will take qualifications as part of your apprenticeship and receive recognition for your learning and achievements
Apprenticeship Levels
Intermediate Apprenticeship (Level 2) on completion this is equivalent to 5 GCSEs

Advanced Apprenticeship (Level 3) on completion this is equivalent to 2 A-Levels

Higher Apprenticeship (Level 4) on completion this is equivalent to a foundation degree

Degree Apprenticeship (Level 6)

Masters Apprenticeships (Level 7)
You can move up through the apprenticeship levels and make progress in your career.
What are the benefits of an apprenticeship?
Earn whilst you learn! You are employed and paid a wage throughout the apprenticeship

No debt. The employer or the government pays your training fees

An apprenticeship allows you to apply your learning to real life projects

Apprentices may gain a head start in their chosen profession (compared with those leaving college and university)
As an Apprentice you will:
Get practical experience in a workplace and train for a specific job

Complete assessments during and at the end of your apprenticeship and gain qualifications

Receive time away from the workplace to work towards your qualifications

Receive support and work alongside experienced people and specialist trainers

Earn a salary. To find out what the minimum salary is for an apprentice please visit the Government website. Many employers pay much more than the minimum. Salaries increase after your first year

Receive holiday leave
Watch our short video, to learn more about how an apprenticeship could be right for you
To find out about different types of apprenticeships and what they involve visit the Institute of Apprenticeships website.
To find companies that offer apprenticeships in Leeds visit the Apprenticeships in Leeds website.
Apprenticeships within Leeds City Council
We have thousands of people working within the council and we are a Top 100 apprenticeship provider. Our apprenticeships are in a range of careers including Administration, Engineering, Management, Planning, Plumbing, Car Mechanics and Joinery. To find out more about apprenticeships in the council visit our website.
If you would like to speak to the Apprenticeship Hub about apprenticeships you can contact us and a member of the team will be in touch.