Leeds Health and Care
A range of partners across the city are working with Leeds City Council to help people into Health and Care jobs and bridge gaps in the workforce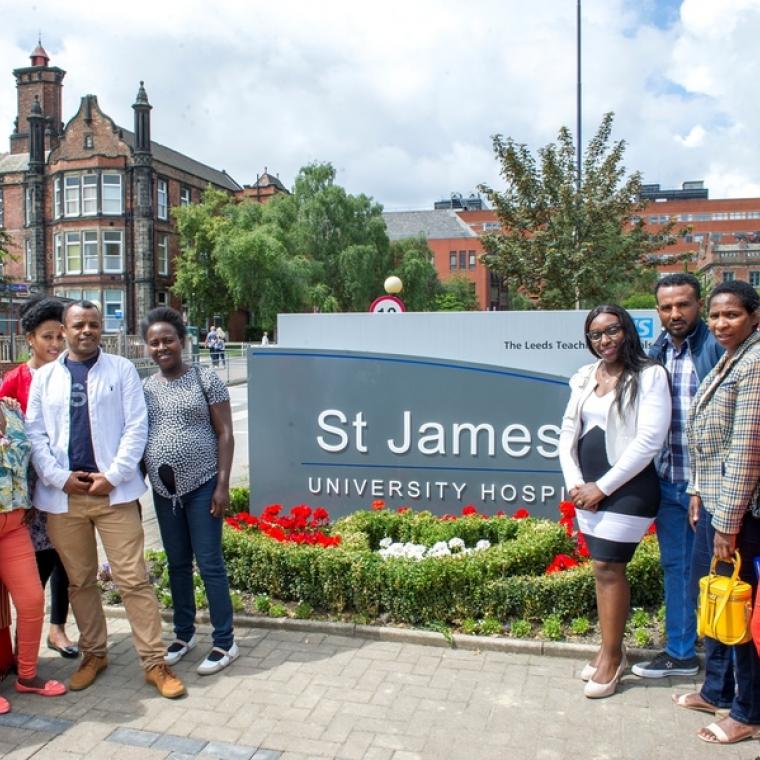 Lincoln Green Employability Programme, Leeds
The Lincoln Green Employability pilot took place in 2019, led by a partnership between Leeds City Council, Leeds Teaching Hospitals Trust and Learning Partnerships, a third sector training organisation. The project sought to better equip residents from Lincoln Green, one of the most disadvantaged areas in the country, to gain employment at the adjacent St James' Hospital. ​Through a range of information sessions and employability courses, the goal was to remove barriers to the recruitment process. As a result of the pilot, a total of 49 local residents secured employment at the Hospital, 43 in Estates and Facilities and 6 in the Nursing Workforce. 
A published evaluation is available in the International Journal of Health Promotion and Education: James Woodall, Susan Coan, Michelle Stanley & Keri Evans (2022): Developing employability skills in local communities: supporting the economy, health sector and addressing the social determinants of health. Please click here.
Connecting Communities to Health and Care Careers
This work has now developed and evolved into the Connecting Communities to Health and Care Careers programme. The initiative adopts a person-centred approach meaning that it is delivered and implemented around the needs of target communities, and also seeks to address the root cause of the barriers to employment that people are facing. 
A 'hub and spoke' model is utilised, meaning that people are referred to the appropriate programme that meets their needs and preferences, and established partners and initiatives in the city are used and maximised. To date 517 people, 55% from a Priority Ward have attended an information session, 207 gained employment and 136 are currently being supported within a pathway.
Healthier Working Futures
Healthier Working Futures is a programme that was designed to help unemployed/economically inactive young people aged 16-25 to develop the confidence, skills, interest and insight, and access to practical work experience that would enable them to take advantage of fulfilling employment opportunities in the health and care sector. Funded by the UK Government through the UK Community Renewal Fund, Healthier Working Futures was the only successful UK Community Renewal Fund bid in the city. The Leeds Health and Care Academy was a key delivery partner for the project, working alongside Lighthouse Futures Trust and 6 other third sector partners. The project came to a close at the end of October, and during the time of delivery the programme engaged with 607 young people.  As a direct result of the programme, 128 young people engaged in job searching, 70 gained a qualification, and 56 took part in education and training programmes.
Organisational Development Team
Another key programme of work to support the Health and Care sector in Leeds is the work of the council's Adults and Health Organisational Development Team. They work with partners including the Leeds Health and Care Academy and Job Centre Plus to attract people who have an interest in Health and Social Care into a career. Part of the team's offer is the We Care Academy, which helps organisations in Leeds recruit and train Health and Social Care staff. Comprehensive training, such as safeguarding, Equality Diversity and Inclusion and autism awareness training, leadership and management courses, and qualifications and apprenticeships are on offer to organisations to help build the skills of and develop their workforce.
If you would like to know more about either of these programmes, get involved with their work or take up what is on offer, please contact:
Connecting Communities to Health and Care -
Adults and Health Organisational Development -
We Care Academy -